The LBT Hardness Tester was developed to tests the hardness of lead alloy bullets and suitable ingots.
Rugged, all steel, welded construction. Built to last a lifetime!

No calculating! The only available hardness tester with direct BHN readout!

Tests hardness ranging from 6 BHN to 40 BHN (Pure lead runs from 4 to 5 BHN, linotype – 18 to 22 BHN, and heat-treated, or hardest lead, up to 35+ BHN)

Guaranteed accuracy – repeatability within 1 BHN

Tests in approximately 10 seconds per specimen

The only tester available to casters that is BOTH easy to use and accurate!

Comes with very detailed operating instructions, including a wealth of technical information and facts about lead hardness that you won't find anywhere else (info critical to bullet casters who demand performance)
"When your bullets read what you know you need, you will get performance indeed!"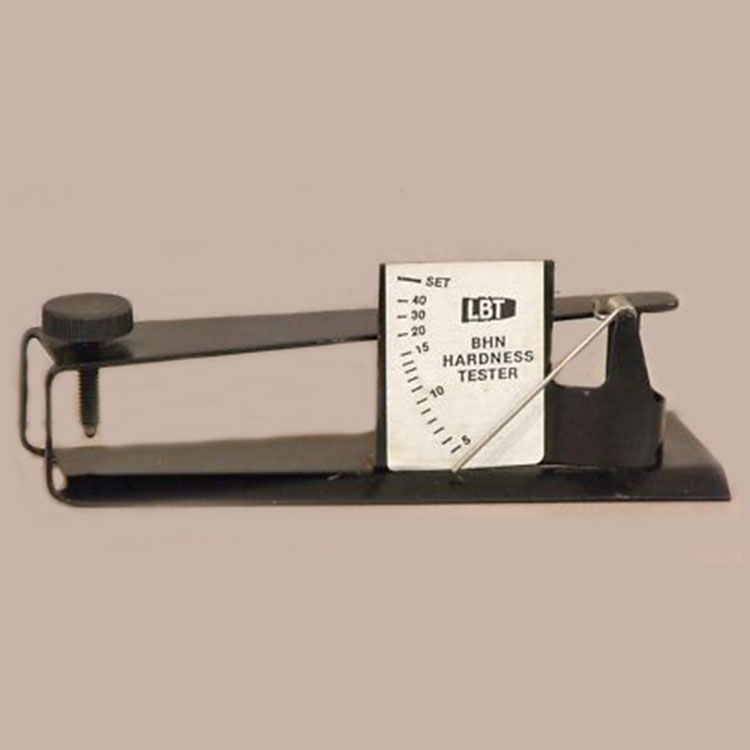 Additional Information
**Note: Test specimen capacity is 1 inch (Shorten longer and/or pointed bullets to obtain test flat, and/or to fit tester).
**FYI: Ingots typically cool much slower than bullets causing the hardness reading to vary greatly depending on cooling time, temperature of ingot mold, etc.
IMPORTANT: HARDNESS CLAIMS OF COMMERCIAL CAST BULLETS OR COMMERCIAL CASTING ALLOY ARE NOT ALWAYS CORRECT. DO NOT USE THEM AS A HARDNESS STANDARD FOR OUR TESTER BUT VISA VERSA! FEW DELIVER AS ADVERTISED!
**Every tester is manually calibrated and should be trusted as your 'precision hardness standard'.